Let Us Help You This Season
With The Perfect Wines For Thanksgiving
Enjoy 1¢ shipping for all California orders and $25 shipping for the rest of the country. Order by November 11th to have your wine arrive before Thanksgiving. Offer not available for HI & AK.
We would be honored to help you create fond memories at your dinner table this Thanksgiving Season! Mix and match this season's featured wine, 2018 Marsanne-Roussanne, with any of these other dinner essentials.

As a reminder, we will be closed November 24th and 25th to be with out loved ones. We thank you for your continued support and wish you a great Thanksgiving.
We hope you get to try
Brendan's New England Clam Chowder Recipe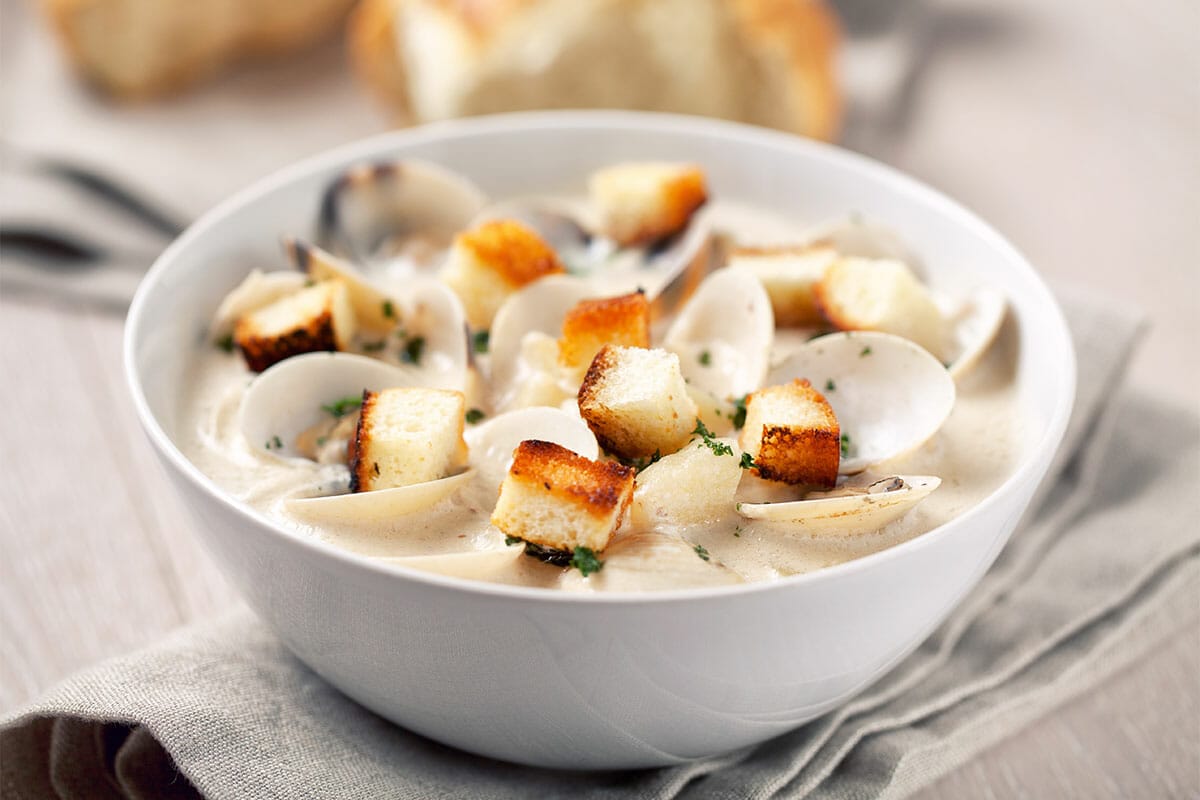 INGREDIENTS:
10 t unsalted butter, divided
10 oz diced pancetta
1 C celery, medium-diced
2 C yellow onions (2 onions), medium-diced
2 C carrots, medium-diced 2 C potatoes, medium-diced
½ t dried thyme leaves
½ t white pepper
Pinch of ground nutmeg
1 t kosher salt
½ t black pepper
4 C clam juice
½ cup all-purpose flour
2 C milk
3 C fresh clams, chopped
(Atlantic surf clams have a sweet, delicate flavor, but you can use any clams you prefer. Shuck them over a bowl or use canned clams, drain them and use the juice)
DIRECTIONS:
Melt 2 t. in a Le Creuset or Stock Pot on medium, add pancetta and cook on med-low heat so the fat renders out.
Remove pancetta, and add 2 additional t of butter and onions, cook over medium-low heat until translucent, approx 10 minutes.
Add celery, carrots, potatoes, thyme, white pepper, salt, and sautée for 15 more minutes. 4. Add the clam juice, bring to a boil, and simmer, uncovered for 20 minutes.
Make the roux: Melt the remaining butter in a small skillet over medium heat. Add the flour and stir to make a smooth paste. Cook, stirring, until the roux bubbles; cook 2 minutes more.
Whisk in a cup of the hot broth and then pour this mixture back into the cooked vegetables. Simmer for a few minutes until the broth is thickened.
Add the milk, clams, and return the pancetta to the pot. Heat gently to cook or warm the clams.
Add salt and pepper to taste.